Video: 7-5 Tacko 'Taco' Fall Might Be The Tallest High School Basketball Player In The World...
[url
http://sports.yahoo.com/blogs/highschool-prep-rally/meet-7-foot-5-tacko--taco--fall--the-nation-s-tallest-high-school-basketball-player-150607770.html[/url]
Nation's tallest prep basketball player has big dreams beyond the court

Meet Tacko "Taco" Fall. He's somewhere between 7-foot-4 and 7-5, wears a size 22 shoe and has an 8-foot wingspan. And he's believed to be the tallest prep basketball player in the U.S., if not the world.

"Everywhere I go, people want to take pictures, talk to me, shake my hand, but I'm getting used to it now," the Tavares (Fla.) Liberty Christian Prep junior told the Orlando Sentinel this past November.

Fall arrived in Florida from Dakar, Senegal, via Texas, Ohio and Tennessee with little to no organized basketball experience. Former Orlando Magic center Pat Burke, now running a training facility in the area, helped steer Fall to Liberty Chrisitan through former Auburn University teammate Mamadou N'Diaye, whose brother runs the Flyingstar Academy for soccer and basketball in Senegal.

Upon visiting Liberty Christian coach Paul Archer's home, Fall apparently hit his head on a ceiling fan. Needless to say, he's a basketball project, averaging 11.1 points, 5.0 rebounds and 1.3 blocks for the Lions (11-15) this winter. Fall recorded just one double-double despite standing a half-foot taller than the next-tallest prep baller, fellow Senegalese junior Jean Marc Koumadje of nearby Montverde Academy.

"Everywhere I go, people are going to be scared, because they say I'm 7-4," Fall told the Sentinel. "But if I don't play like a big man, they may not be scared of me. They're going to say, 'This guy is soft.' So, I have to play like a big man, be aggressive on the post, ask for the ball and work on my hook shot."

According to the Sentinel, he's eating entire pizzas covered in chicken and hamburger to keep weight on his 250-pound frame. In that sense, he's your typical teenager. In another sense, he's larger than life. He stands 1 1/2 inches taller than current Oklahoma City center Hasheem Thabeet, the tallest current NBA player (although, D-League center Paul Sturgess stands 7-8). Fall, whose full name is Elhadji Serigne Tacko Diop Fall, reportedly has a 7-year-old brother who is already 5-9.

Of course, Fall isn't relying solely on basketball to build a life in his new country. Donning his trademark glasses, he told the Sentinel he hopes to become the tallest person (probably) to achieve something else.

"I'm hoping to play professional basketball," he said, "but at the same I time I want to be a biochemist."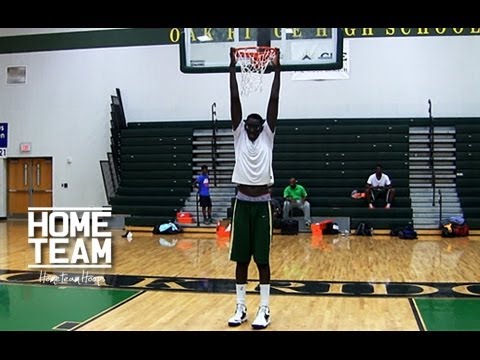 http://www.youtube.com/watch?v=AURnnpiGOxs
Comments