IN YOUR OPINION, WHO IS THE MOST POLITICAL BLACK ATHLETE OF ALL TIME?
Black athletes these days CLAIM they care about the struggle but when their pockets get affect, they give ZERO f@cks about the cause; they just dont make em like they used to.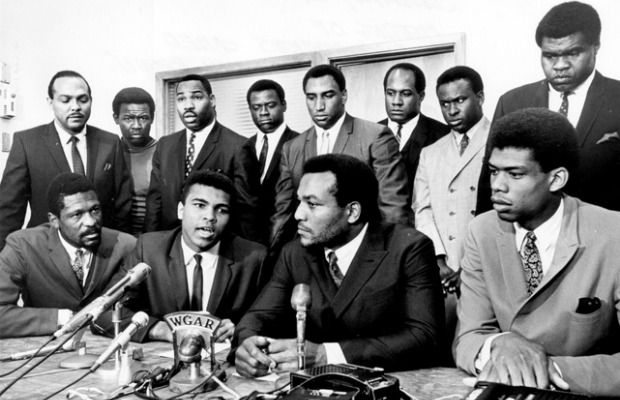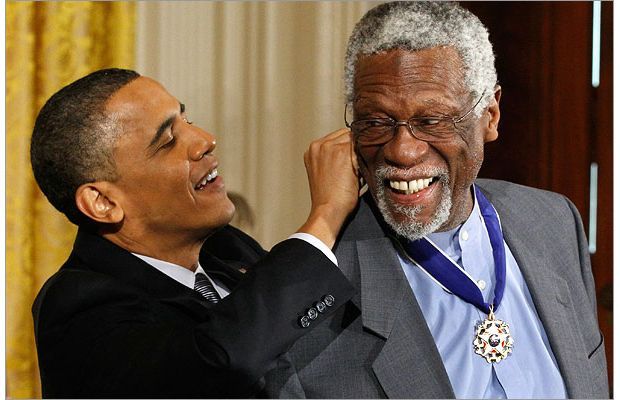 Bill Russell
Sport: NBA
Years: 1956-1969
Bill Russell may not have been the most vocal athlete, often refusing to sign autographs or do interviews but he was no doubt a pioneer for all black athletes. He battled racism throughout his years in Boston and lead his team to become the most dominant dynasty in sports history. After Russell had won nine championships in ten seasons with the team, Celtics head coach Red Auerbach retired and named Russell as player-coach, making Russell the first black head coach in NBA history and professionals sports. Russell coached the team to another two championships in three seasons as player-coach. In 2010 he was awarded the Presidential Medal of Freedom.
Jesse Owens
Sport: Track and Field
Years: 1935-1936
The 1936 Summer Olympics were hosted by Adolf ? , who wished to use the platform to show off his fascist ? propaganda. Owens proved that theory to be ? when he racked up four gold medals. Needless to say ? was conspicuously absent for the medal presentations. What's German for bitchassness?
Jackie Robinson
Sport: MLB
Years: 1947-1956
On April 15, 1947 Robinson made his debut as the first black major league player of the modern era in the Dodgers 1947 home opener. Despite racism from some fans, opposing players, and even his own teammates, Robinson won Rookie of the Year honors that season and the National League MVP in 1949. After his Hall of Fame baseball career, Robinson used his fame to stump for various political candidates, including Richard Nixon for president in 1960, Nelson Rockefeller for governor of New York in 1964, and Hubert Humphrey for president (running against Nixon) in 1968.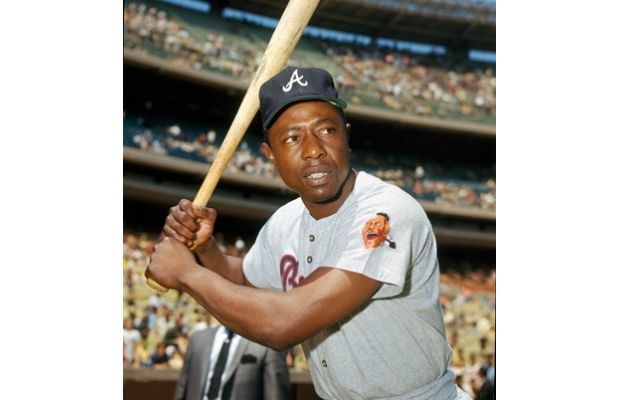 Hank Aaron
Sport: MLB
Years: 1954-1976
Given the era when he broke Babe Ruth's home run record, Aaron made political "statements" countless times in the early 1970s simply by showing up to work and not being dissuaded in his quest by the constant stream of racist threats he received (and by hitting the cover off the ball on a regular basis). He's a frequent contributor to mostly Democratic candidates, including his brother-in-law, Georgia Rep. David Scott, Bill and Hillary Clinton, and Georgia governors Zell Miller and Roy Barnes.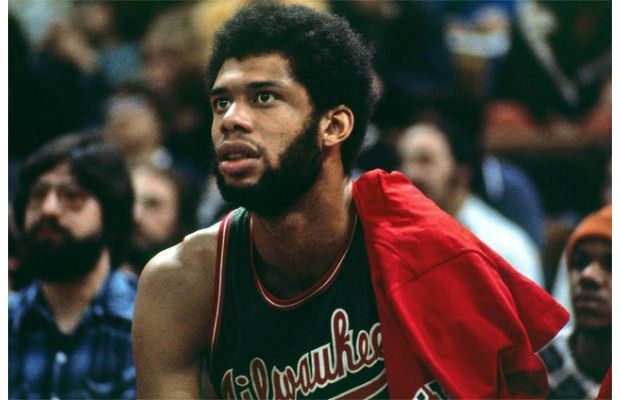 Kareem Abdul-Jabbar
Sport: NBA
Years: 1969-1989
In recent years with ballers changing their name to monikers like Ochocinco and Metta World Peace, it's easy to forget that there were athletes before them who legally changed their names for beliefs deeper than their jersey number or "to inspire and bring youth together all around the world." Right, Ron. Or Metta. Whatever.
Anyaway, in 1971, Lew Alcindor changed his name to Kareem Abdul-Jabbar the day after the Bucks won the NBA championship. The Muslim name means "generous servant of the mighty one." When asked about the reasoning behind the change he stated that Alcindor was the name of a French planter who brought his family to America as slaves. "When I was a kid, no one would believe anything positive that you could say about black people. And that's a terrible burden on black people, because they don't have an accurate idea of their history, which has been either suppressed or distorted." Abdul-Jabbar would become one of the most-widely recognized Muslim athletes in sports history and write books such as Black Profiles in Courage: A Legacy of African-American Achievement,Brothers in Arms: The Epic Story of the 761st Tank Battalion, and On the Shoulders of Giants: My Journey Through the Harlem Renaissance.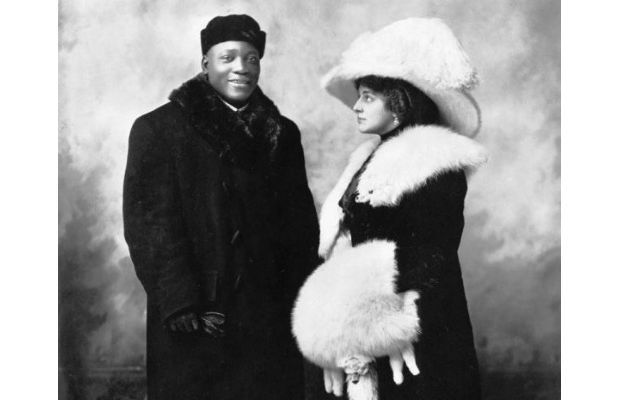 Jack Johnson
Sport: Boxing
Years: 1897-1938
Today's controversial black athletes have nothing on Jack Johnson. In an era where blacks were regularly lynched for beating up white men or being in relationships with white women, Johnson did both in the public eye. On July 4, 1910 in Reno, Nevada, Johnson, the first black heavyweight boxing champion, was challenged for his title by the white former undefeated heavyweight champion, James Jeffries. Prior to the fight, Jeffries said, "I am going into this fight for the sole purpose of proving that a white man is better than a ? ." Johnson won by TKO in the 15th round. The champ added even more fuel to the racial tension fire outside of the ring by dating white women outside of it. Johnson was married three times and all of his wives were white
Muhammad Ali
Sport: Boxing
Years: 1960-1981
The boxer many consider the Greatest wasn't always loved by the majority of sports fans. When he changed his name from Cassius Clay after converting to Islam, many writers refused to call him by his name. When Ali refused to join the Army because of his religious beliefs and opposition to the Vietnam War it created quite a nationwide controversy. "I ain't got no quarrel with them Viet Cong ... They never called me ? ," said Ali. Though not really seen as controversial today, Ali's outspoken opposition to Vietnam War caused many to call him a draft dodger while pointing to and praising athletes in the past who served such as Joe Louis and Willie Mays. The then heavyweight champion was also stripped of his title and sentenced to five years in jail (although he didn't end up serving time). A few decades and questionable foreign conflicts later, Ali is considered an American sports hero. Progressive views, FTW!
Jim Brown
Sport: NFL
Years: 1957-1965
At the young age of 29, Jim Brown retired from the NFL as the all-time leading rusher with 12,312 yards; a record that stood for 19 years. After retirement Brown would go on to star in movies such as 100 Rifles; one of the first major releases to include a interracial love scene. Aside from his acting career, Brown founded programs like the Black Economic Union which was aimed at black professional athletes to help black-owned businesses thrive in urban communities. After the BEU folded, J.B. would create another program now known as Amer-I-Can in 1986. The Los Angeles based program helps gang members and convicts learn life skills in an effort to change their lives for the better. Over the years Amer-I-Can has raised millions of dollars and has expanded to cities such as Cleveland and San Francisco.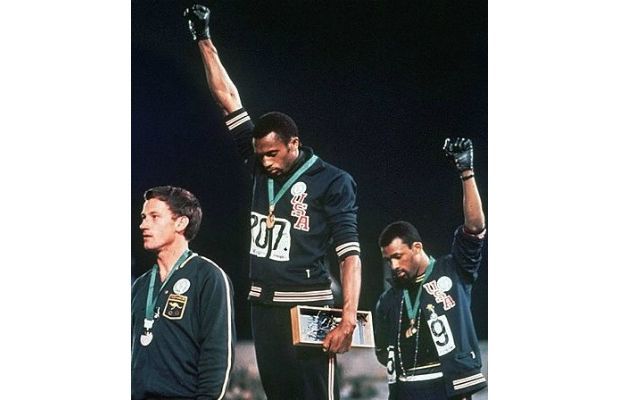 Tommie Smith and John Carlos
Sport: Track and Field
Years: 1968
After winning the gold and bronze medals for the 200 meter dash at the Olympics in Mexico City, John Carlos and Tommie Smith raised their gloved fists on the medal podium in a black power salute on the Olympic medal podium. At the time their gesture was seen as a very disrespectful airing of the country's ? laundry on the world stage. Carlos and Smith were immediately suspended from the U.S. Olympic team and received death threats for years after returning home. Today Carlos and Smith are seen as Civil Rights heroes and were honored with a statue in 2005 at their alma mater, San Jose State University. Time sure changes a lot, huh?
IN YOUR OPINION, WHO IS THE MOST POLITICAL BLACK ATHLETE OF ALL TIME?
80 votes
Comments