Mayweather without a doubt is one of the best (arguably the best) but ain't got no KO punch
Only so much I can critique greatness. I know there's other threads on Mayweather, but this one is on a specific point.
Dude could knock TI out before the bell rung and most likely beat 50 Cent in the ring. Before I get on the negative, I think he's one of the best boxers ever and want him to go undefeated.
Roy Jones was my favorite boxer and the best boxer of my generation that I saw, but when it comes to a technically efficient boxer that can hit you with clean power punches without you hitting him back I think Mayweather is #1 of all boxers for all time. This does not make him the best boxer ever. That belongs to Ali.
NOW MY POINT is: on something that I couldn't find on the internet so I had to concoct the stats I could find. I wanted to know what was the average amount of times a championship Hall of Fame boxer has KO'd his opponents. My thought was Mayweather had to be in the bottom percentile and below average when it came to Hall of Fame championship boxers who KO'd their opponents. I was right. The average for the boxers I looked at was that the average HOF boxer knocked out 63% of their opponents. Mayweather knocked out 55%. Now, a person who watches Mayweather's fights knows he easily could have knocked out at least 10 more opponents but he chose not to knock them out. Well, I can't do anything with that stat because that's like saying the other boxer's could have easily knocked out some more of their opponents but decided not to. Even in the times Mayweather did knock his opponents out he had to hit them numerous times while they were hurt before they were hurt enough to fall. Other boxers sometimes hit you with 4 shots and you're out cold.
What you all think of Mayweather not knocking people out? Is it too risky to go for a knockout and risk getting Ko'd?
Is this the style he has chosen or did he make the choice to out point his opponents because he knew he could not knock them out? You have any other critiques or comments on Mayweather.
BELOW ARE THE BOXERS I USED TO COMPARE HIM WITH: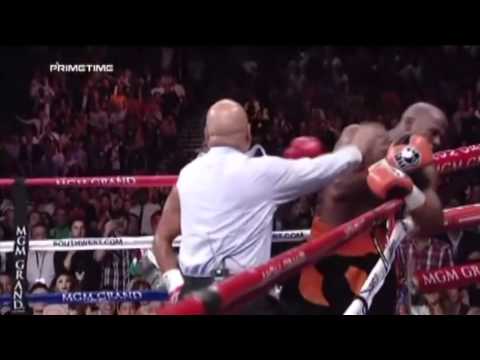 https://www.youtube.com/watch?v=004Mx_Sp1nE
Comments