Larry Sanders Walked Away From the NBA and $27 Million, and He's Never Felt Better
9TRAY
Members
Posts: 6,830
✭✭✭✭✭
We caught up with the former Milwaukee Buck on his life after professional basketball and how the league failed him.
By: Gus Turner
Too many people are unhappy with life," says Larry Sanders, the former Milwaukee Bucks center who, instead of commiserating with his old teammates about the recent end of their brief playoff run, is sitting in a Complex conference room overlooking midtown Manhattan. His hands are about a foot apart, palms facing each other. An audience that includes his wife, two publicists, a team of photographers, and me focuses on him. He looks at the space between his hands: "You pan out—I start talking and rambling—you pan out, you pan out and you look at life and, like, man, this timeline, these certain elements, how we lived for this certain time, and then, all of sudden—boom."
There's a story unfolding in Sanders' head that he's trying to put into words. "Automobiles," "electricity," a three-century era of technological progress that, for him, feels like too much, too soon: "We just exploded in time, and now we're in this point where we've been living this way for, what, 300 years almost, not even that," he says. "People have displaced emotions, anxieties; they need to create. That's what we come from. We'd lived that way for 15 million years. Now, it's this 300-year span, and everyone's working, unfortunately."
It's funny to hear from someone who is just 26 years old and technically retired. On February 26, after playing just 27 games of the 2014–15 season, Sanders left the NBA. He had recently entered himself into the Rogers Memorial Hospital in Milwaukee to receive treatment for a mood disorder, anxiety, and depression—issues which, in the past, he has tied to his turbulent upbringing.
Many congratulated Sanders for making the tough and unconventional decision to walk away, even at the steep financial cost attached to his choice. Others criticized him for the money left on the table—$27 million, to be exact—along with who knows how much in potential future contracts and endorsement deals.
A handful of cynics readied us for the slow, post-spotlight decline, the stories of bankruptcy and drug-related arrests to come.
However, a few months after his exit from the Association, life is still far from over for Sanders. He appears calm and happy, speaking passionately, listening intently, looking closely. He's traded his basketball goggles for a pair of gold Guess frames, and in place of his signature Converse shoes, he wears black and gold Jordan 1s, size 18. An olive green Supreme Fugazi hat hangs from one of the belt loops of his jeans.
On his right ring finger, he wears a silver and gold ring in the shape of a mask. On one side is the face of comedy—on the other, tragedy. It's only one piece of jewelry among the many that Sanders is wearing, but it has a notable, albeit brief, history with him:
The night before, he says, he entered into a long conversation with a city jeweler who, so inspired by Sanders' journey of self-discovery, gave him the piece for free. "It's, like, a $10,000 ring," he says, but what its ownership implies is something more powerful than its market value: His story is one worth hearing.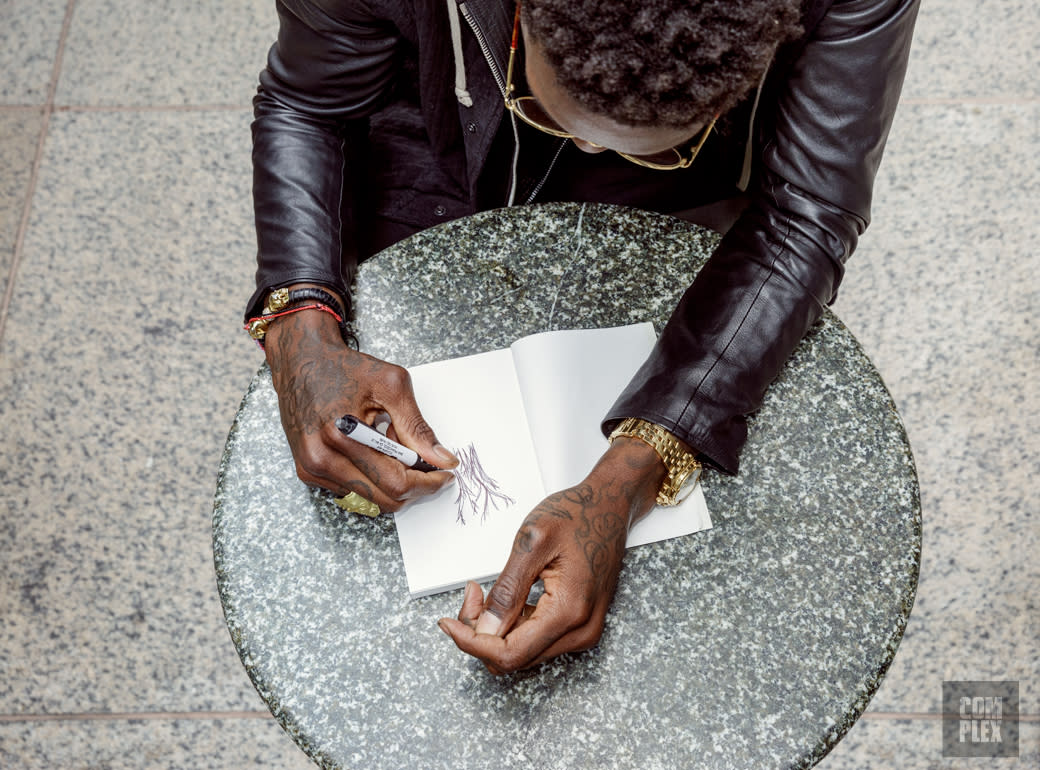 It begins with meditation. Sanders was in the midst of his decision-making process to leave the NBA when he entered himself into a four-day course with an unidentified woman who played the role of his spiritual advisor. "She gave me words that only me and her shared, went through this ritual ceremony, and she just taught me about it," he says.
"It was really helpful." So helpful, in fact, that it ended up inspiring the decision that stopped one side of his life and started another. "It was funny," he recalls. "She was, like, 'Y'know, a lot of people do this and the next day they want to quit their job, or they want to get a divorce.'
Because they say it's like, y'know, opening up waterholes that haven't been opened in 20 years. What's going to come out first? Gunk, worms, ? , and then you get flowing water. You get fresh water. That's how I felt it. I felt an explosion of emotion."
When the dust settled, Sanders entered the Rogers Memorial Hospital, a choice he made "to protect myself from myself and, y'know, some other people." He felt the need to get away from the distractions of the league, an environment characterized by its excesses and misguided self-medication: gambling, drinking, consumer therapy, and the like.
Compounded with the everyday demands of a professional athlete—the physical exertion, the regular invasions of privacy, the endless media obligations—Sanders, who focuses on writing, painting, music, and other artistic pursuits in his spare time, felt that he was creatively drained.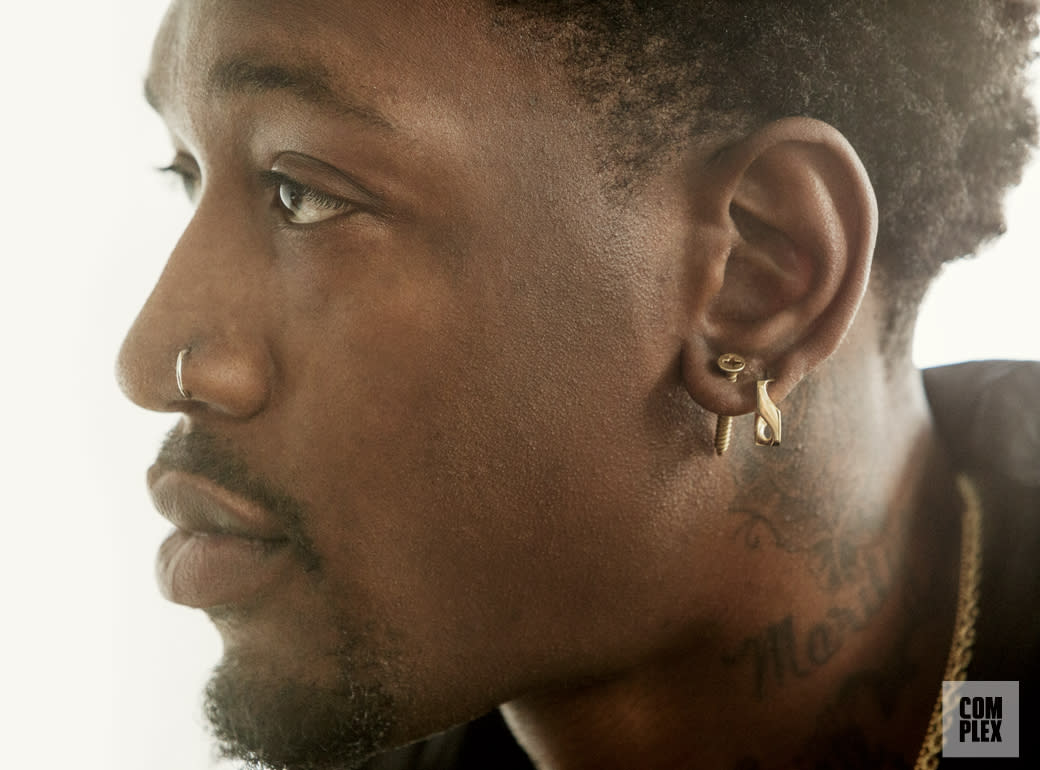 http://www.complex.com/sports/2015/05/larry-sanders-profile-walking-away-from-nba?utm_source=Sailthru&utm_medium=email&utm_term=Daily&utm_campaign=Daily 2015 (Fully Horizon) 2015-05-29
Comments